Glass for security and safety
Our Range of Products in This Series
Jaipur Tuff Bullet Resis+
The bulletproof glass is produced from polyvinyl butyral, polyurethane, sentryglas, and ethylene-vinyl acetate with customized thickness from 30mm to 70mm as per security required.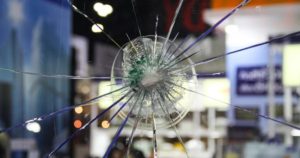 Click here to download the brochure of "Jaipur Tuff Ballistics Resistant Glass"
Jaipur Tuff Secure+
SENTRYGLAS (As secure as wall)
This glass is manufactured with an integrated Sentryglas layer ie as strong as to provide wall security even after glass breakage.
Its Mainly Recommended for:
Window without grills.
Glass walkway.
Glass floors.
Glass staircase.
Jewellery showrooms.
Railings without frames.
Glass shelters.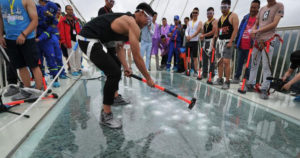 Jaipur Tuff Lam+
To add beauty and safety to your glasses
Laminated Glass is a type of safety glass that holds within together when shattered. Laminated
glass is normally used when there is a possibility of human impact or where the glass could fall if
shattered and also for architectural applications. Skylight glazing and automobile windshields
typically use laminated glasses. In geographical areas requiring hurricane-resistant construction,
laminated glass is often used in exterior storefronts, curtain walls and windows.
Recommended for:
Doors and Windows.
Household furniture.
Kitchen & Bathroom Shelving.
Mirror/Lacquered Glass.
Glass Railings with Frames.
Partitions & Frameless Doors.
Commercial & Overhead Glazing.
Glass Skylight.
Glass Aquariums & Canopies.
Jaipur Tuff Creative
Because colours and aesthetics matters
These Glasses can bring about a complete transformation to architectural designs. The wide
range of available effects, patterns and colours allow you to create the desired look in your home
or office buildings. They are preferred for attractive aesthetical appeal and decorative can be
used in combination with other glasses with different functionalities.
Recommended for:
The vivid colours and translucent aesthetic of PVB laminated glass make it a great choice in
many interior and exterior applications including:
Interior & Exterior Railings.
Building Facades.
Partitions & Glass Walls.
Doors.
Floor Panels.
Furniture.
Jaipur Tuff Sound Guard
Designed for unwanted sounds and stress free environment
A Soundproof glass is made by using cutting-edge technology to dramatically reduce the noise in your environment and improve your quality of life. These glasses will significantly reduce the noise levels without compromising your style. Your window will look better than ever before. This is due to the properties of the Jaipur Tuff Sound Guard interlayer which absorbs the sound that passes through the laminated glass.
Recommended for:
The vivid colours and translucent aesthetic of PVB laminated glass make it a great choice in
many interior and exterior applications including:
Hospitals.
Office Cabins.
Spa & Rejuvenation Centres.
Bars & Lounges.
Educational Institutions.
Residential
Laminated glass is also a safety glass. A type of polymer layer is sandwiched between two or more layers of glass sheets. At the incident of breaking, it remains in place by that interlayer, generally, the interlayer would be polyvinyl butyral (PVB) or ethylene-vinyl acetate (EVA).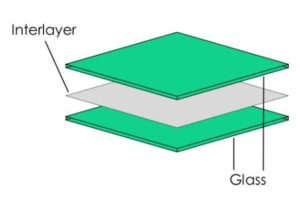 As per the many researches held on the performance of both PVB and EVA found, PVB preforms better.
PVB has very  low yellowness index with high strength compare to EVA. Generally, PVB is highly recommended for laminated glass.
Laminated glass is produced in Jaipur Tuff  by a heat pressure process on the fully automatic laminating line with integrated autoclave, boasts automatic loading and unloading, automatic glass positioning and a fully automatic online control system. 
Jaipur Tuff practice world's topnotch technology in lamination process. Our laminated glass is produced by world class LISEC Lamination line and highly qualified engineers. 
Jaipur Tuff Laminated glass lends exceptional Safety and Security with very low visible distortion. It reduces heat, glare and sound while eliminating UV radiations.
Sentryglass has outstanding performance among all glasses, not only in security but in clarity, safety, yellowness index, delamination, open edge performance and many others.
Sr. No.
Ionoplast Interlayer SentryGlas® (SGP)
PVB Interlayer
1
Ionoplast interlayer is an advanced interlayer with different chemistry specially invented for architectural applications
PVB interlayer was invented by DuPont for the automobile industry in 1930 for windshield applications
2
Young's Modulus @ 30° C, E = 413 MPa
Young's Modulus @ 40° C, E = 187 MPa
Young's Modulus @ 80° C, E = 3.96 MPa
SentryGlas® maintains a high Modulus value
as indicated by above values at all temperatures
Young's Modulus @ 30° C, E = 2.91 MPa
Young's Modulus @ 40° C, E = 1.83 MPa
Young's Modulus @ 80° C, E = 0.01 MPa
PVB has very low Modulus value as indicated by above values.
3
It is not hygroscopic. It has better edge stability than PVB and can be used for open edge applications provided there is no accumulation
of water.
PVB being hygroscopic in nature absorbs moisture from the environment. It cannot be recommended for open edge applications.
4
0.89 mm calliper passes the ASTM E2353 – 06 test criteria due to its 100 times higher stiffness SentryGlas® was launched in this minimum calliper for this reason.
Minimum calliper required to pass the ASTM E 2353-06 test is 2.28 mm.
5
0.89mm Callipers can be laminated for Tempered glass as well.
A minimum of 1.52 mm calliper is required to laminate tempered glasses.
6
Has DIBT approval in Germany and France
No approval by DIBT for PVB for . coupling approach
7
Has a much better post breakage performance than PVB even at elevated temperatures ( > 40 C) studied through swing bag and drop bag tests. High tear strength provides safety against "Fall Through"
Poor post breakage performance and gives a "Wet Blanket " effect. PVB interlayer tears away at rotules in point fixed glass applications thus not providing any "Fall Through " resistance.
8
It can be used for making tempered laminated safety glass as the interlayer stiffness prevents panel fall out and "Wet Blanket" effect in point fixed applications
Not recommended in tempered laminated glass applications with point fixings as the interlayer cannot prevent "Wet Blanket" effect. Thus Its use can be limited to annealed or HS glass.
9
Yellowness Index is less than 1.5
Yellowness Index ranges from 6-12
Jaipur Tuff Sound Guard (Acoustic Glass)
Silence... Thanks to glass
Jaipur Tuff Creative (Colored PVB Interlayer)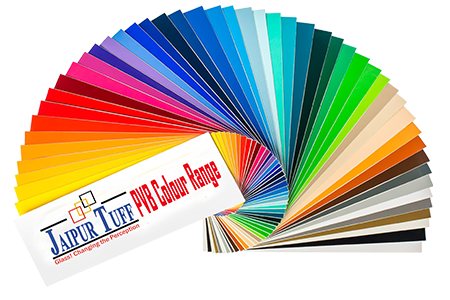 Because colours and aesthetics matters